A rich past, a bright future
Burrell was established in 1937 when Harold Nettheim came to Brisbane on his honeymoon. Harold had worked for his brother, a broker in Sydney for several years, when his wife Marguerite suggested he buy a seat on the Brisbane Stock Exchange for the price of £300.
The sole trader and staff of two persevered through the quiet period of 1939-1945 before business began to pick up. In 1957, Tom Burrell joined the firm as the accountant and after five years was admitted as a partner of Nettheim Burrell & Co.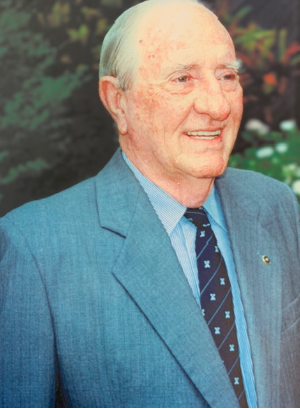 Thomas Burrell
Harold's unexpected death left Tom Burrell as the only surviving partner of the firm. Tom took on his new responsibilities including personally trading at the stock exchange twice daily.
Tom became a very active member and contributed greatly to the Australian financial services industry for almost 50 years. He served as Foundation Councillor and President of the Securities Institute of Australia, as well as President of the Australian Chamber of Commerce and Brisbane Chamber of Commerce. He also served on the committee of the Brisbane Stock Exchange for 11 years including terms as Chairman, Vice Chairman, and Treasurer.
In 1974 the firm changed its name to Burrell & Co. The next generation of Burrells joined the firm in 1987 and 1997 when two of Tom's son's commenced. Currently, Tom's eldest son Christopher is the firm's managing director.
The family partnership became an incorporated company in January 2000. Tom received an OBE for his services to Australian commerce in 1980 and he retired from the firm he built in 2004.
In 2022, Burrell marks its 85th birthday. We loyally help clients with approximately $1.5B worth of portfolios and we've grown to more than 40 staff with offices in Brisbane, Gold Coast, Ipswich, Bundaberg, Emerald and Sunshine Coast.
Most importantly, we're primed for the challenges of the future, backed by the experience of the past.